China's GDP growth slows to 6.8% in Q4 of 2008
China's economy is sending out mixed signals, figures released on Thursday showed, with the growth of gross domestic product (GDP) decelerating to the lowest pace in years, while several other indicators showing signs of recovery.
Related readings:


Wen says toughest year ahead


'09 growth to hit 8.3% - think tank


UN: Global recession may drag down China's growth 


'Economy to rebound in 2010'
The country's GDP, the most widely watched measure of its economic strength, grew 6.8 percent from a year earlier in the fourth quarter of 2008, said Ma Jiantang, Commissioner of the National Bureau of Statistics (NBS), on Thursday at a press conference in Beijing.
For the whole of 2008, the economy expanded 9 percent to 30.067 trillion yuan ($4.402 trillion), according to Ma, the first year of single-digit growth since 2003 and well below the average rate of 9.8 percent in the past 30 years.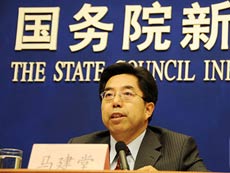 Ma Jiantang, Commissioner of the National Bureau of Statistics (NBS), speaks at a press conference on Thursday in Beijing. The country's gross domestic product (GDP), the most widely watched measure of its economic strength, grew 6.8 percent from a year earlier in the fourth quarter of 2008, according to the NBS. [Xinhua]
The latest reading consolidated China's position as the world's third-largest economy after the United States and Japan.
The NBS last week revised the country's growth in 2007 to 13 percent from the original estimate of 11.9 percent, putting its GDP at $3.38 trillion. Germany's GDP stood at $3.32 trillion at the end of 2007, according to IMF estimate, and rose one percent in 2008.
In spite of a slowdown, China remained a key driver of the world economy. "China contributed to more than 20 percent of the global economic growth in 2008, according to some estimates," Ma told the reporters.
Eight-percent Growth Attainable in 2009
While some developed countries may be looking at China's growth with envy, Beijing is feeling the heat from the current economic slump. Conventional wisdom has it that China has to keep its annual expansion rate above 8 percent to create sufficient jobs for the country's labor force.
China faced huge challenges, Ma admitted, as "the international financial crisis is deepening and spreading, with continuing negative impacts on domestic economy." However, he remained confident about the country's economy in 2009 and beyond.
"China is sure to keep its growth rate above eight percent," Ma told reporters after the press conference, as long as the country implements the central government's policies, boosts domestic consumption, creates jobs and increases investment.
Professor Guo Tianyong of the Central University of Finance and Economics (CUFE) shared Ma's optimism. "We should have no problem attaining a growth of eight percent," he told chinadaily.com.cn, citing huge State investment in the pipeline.
Chinese government has annouced a US$586 billion stimulus package, as well as other measures to boost consumption and investment. The State Council decided Wednesday to spend 850 billion yuan ($124.26 billion) in the next three years on healthcare.
Signs of Recovery
Ma said his confidence was well-founded. "There have been some positive developments in December," he explained, pointing to industrial output, retail, bank lending and money supply.
The industrial output rose 5.7 percent in December from a year earlier, up from November's 5.4 percent."That is a small, but important change," Ma noted. Professor Guo of CUFE agreed, calling it a trend for the better.
Private consumption, which the government is relying on to jack up the economy, also picked up. After striping out inflation, retail increased 17.4 percent in December year-on-year, up 0.8 percentage points from the previous month. 
Bank lending and money supply jumped more than economists estimated in December. The country's lenders granted a whopping 740 billion in yuan loans last month, marking the biggest monthly increase in 11 months and a jump of 55 percent from the previous month.
The broad measure of money supply increased 17.8 percent in December year-on-year, up three percentage points from a year earlier and snapping up six straight months of declines.
"All that shows the moderately loose monetary policy has started to take effect," according to Ma.
Whether these positive developments constitute long-term trends remains to be seen, but they are very likely to be "the rays of morning sunshine before the dawn," the top statistician noted.
Professor Guo echoed Ma's points, saying the economy may have bottomed, but may need one or two more quarters to get out of the doldrums. "The downward pressure is still big."
Inflation vs. Deflation
What is also good news for the economy is that inflation continued to ease in December, giving the central bank more room to cut interest rates, the tool of choice in times of economic downturn.
The Consumer Price Index (CPI), a barometer of inflation, rose 1.2 percent year-on-year in December, after rising 2.4 percent in November, said Ma. That was a far cry from a peak rate of 8.7 percent in February 2008 after eight months of steady decline, thanks to falling prices of food and commodities.
However, the bad news is that inflation is falling too fast, giving rise to increasing worries of deflation, a sustained decrease of prices across the board.
The Producer Price Index (PPI), another indicator of inflation, fell 0.4 percent in December from a year earlier, according to Ma, the first month of negative growth in six years. The gauge, which measures factory gate prices, went into a free fall after peaking in August at 10.1 percent. It rose 6.6 percent in October and 2 percent in November.
Prices are widely expected to fall further in the coming months due to continued drops in food and commodities prices, as well as decreases in aggregate demand. The CPI will go down 1.1 percent, while the PPI may decline 3.5 percent in 2009 from 2008, forecast the Galaxy Securities in a report last week.
To avert deflation, the central bank may cut interest rates again on top of five reductions since September, 2008, experts said.
"The central bank may cut interest rates by 27-54 basis points after the Spring Festival," Professor Guo said. The Spring Festival is the most important festival in China and falls on January 26 this year.
The benchmark one-year saving rate stands at 2.25 percent, while the lending rate for the same duration is 5.31 percent.
Copyright By chinadaily.com.cn. All rights reserved